The aquaculture market is projected to grow from USD 30.1 billion in 2018 to USD 42.6 billion by 2023, recording a CAGR of 7.2% during the forecast period. This is attributed to the growing consumption of fish for its nutritional value. Furthermore, the rising trend of smart fishing and the increase in seafood trade is also propelling the demand for aquaculture products.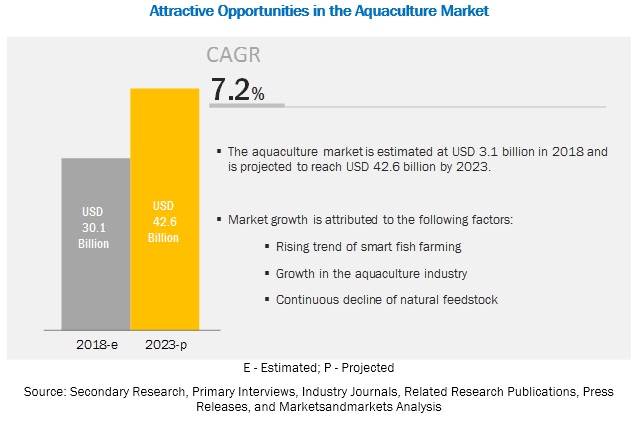 Asia Pacific accounted for the largest share in the market. This is attributed to a rise in demand for advanced and latest aquaculture products that help in producing more quality output with available land for aqua farming and enhance the efficiency of aquaculture operations. Further, aquaculture sectors in countries such as China, India, Vietnam, Indonesia, and Thailand are export-oriented; the aqua farming sector is of prime importance in these countries, as players here are focusing on technology adoption and automation which is expected to have a positive impact on the market in this region.
Introduction:
Aquaculture is the fastest-growing food production system in the world due to the lack of naturally available varieties of fisheries harvested in natural environments. The increasing awareness of the health benefits and nutritional value associated with seafood has accelerated its consumption. Aquatic products, especially farmed salmon and shrimps, are highly nutritious sources of food, consisting of important proteins, vitamins A, B, D, and Niacin, minerals like iodine, iron, phosphorus, and zinc. These foods also have a significant source of Omega-3 fatty acids such as docosahexaenoic acid (DHA) and eicosapentaenoic acid (EPA).
Global Aquaculture:
As per the recent reports, 35 countries produced more farmed than wild-caught fish in 2014. This group of countries has a combined population of 3.3 billion, or 45 percent of the world's population. Countries in this group include five major producers, namely, China, India, Viet Nam, Bangladesh, and Egypt. Global aquaculture production is dominated by Asia (89 percent); China alone accounts for 62 percent.
Aquaculture in USA:
Marine aquaculture in the United States contributes to seafood supply, supports commercial fisheries, restores habitat and at-risk species, and maintains economic activity in coastal communities and at working waterfronts in every coastal state. In the United States, marine aquaculture production increased an average of 3.3 percent per year from 2009-2014, however, globally, the U.S. remains a relatively minor aquaculture producer. According to the most recent Fisheries of the United States, the U.S. ranks 16th in aquaculture production. Although a small producer, the United States is a major player in global aquaculture. The nation supplies a variety of advanced technology, feed, equipment, and investment capital to other producers around the world.
Aquaculture in Europe:
European aquaculture is stagnating by contrast with increasing rates of aquaculture production at world level. To try to dampen this trend, the Commission published two communications with strategies for developing European aquaculture, one in 2002 and another in 2009. The 2002 strategy failed to increase European production, while the global economic crisis has hit the aquaculture market and industry. This led to the publication in 2013 of a third Commission communication, aimed at achieving the sustainable development of EU aquaculture and proposing strategic guidelines. The main aquaculture producers among the EU Member States are Spain (22%) France (17%), the United Kingdom (16%), Italy (13%) and Greece (8.5%), which together accounted for around 77% of total aquaculture production in 2011. However, in terms of the value of production, the UK is the leading producer (21%), followed by France (19%), Greece (13%) and Spain (12%). Bivalve molluscs (mussels, oysters and clams) are dominant in Spain, France and Italy. The UK produces mainly salmon, while Greece produces mainly sea bass and sea bream.
Aquaculture in Asia:
The Asia-Pacific region has taken a step forward in the development of a coordinated strategy and action plan that will lead to the sustainable intensification of aquaculture. Aquaculture is a critical sector in this region which presently supplies more than 90 percent of world production. In total, aquaculture is responsible for more than half of all fisheries products we consume, and demand for aquaculture products is expected to increase. While Asia-Pacific's aquaculture outputs help nourish the world, they are also responsible for more than 20 percent of total protein intake of people living within the region. However, as it is the most populous region of the world, and with heavy demands on natural resources, Asian aquaculture will face great challenges to sustain its growth and meet the increasing demand for fish inside and outside the region. It is estimated that fish consumption in Asia and the Pacific will increase by 30 percent by 2030 and aquaculture production may need to increase by 50 percent during that time to meet increased global demand for fish.
Aquaculture in Middle East:
Fisheries and aquaculture production in the Middle East is relatively small and remains under developed. Production from the region amounts to only 2% of the total world production. Fish production in the Middle East has gradually been increasing at a growth rate of 16%. Egypt is the biggest producer in both capture fisheries and aquaculture, supplying 40% of the total production in the Middle East. As in the rest of the world, aquaculture's contribution to the Middle East's total production has grown. This trend is stronger in the Middle East than in many other parts of the world. Yemen and Oman, which produce 6% and 5% of the total fisheries production in the region, are the leading exporting nations in the Middle East by volumes.
Aquaculture in France:
Aquaculture in France has an important tradition and history. France was one of the pioneers in Europe in the development of research and technology which led to the growth of the industry in general. France is the second largest producer in Europe with a total aquaculture production of 237 451 tonnes in 2007 and €545 million in value. The greatest part of French aquaculture is the production of shellfish (190 000 tonnes) and finfish (55 000 tonnes), of which marine aquaculture is the smallest part at 9.000 tonnes. Marine aquaculture in France has stagnated over the past 5 years due to the constraints on sites and the relatively higher cost of production of farms in relation to competition from Greece and Turkey. There are approximately 30 production units operating in France. The marine aquaculture industry in France is still very fragmented with 40 individual companies occupying 46 production sites, including hatcheries and or on-growing units. There is only one company with an annual production of more than 1000 tonnes and two companies with a production between 500 and 1000 tonnes. There are eight hatcheries operating in France, with an annual production of 34 420 million European seabass and 26 740 million gilthead seabream in 2007. Close to 70 percent of juveniles production is exported mainly to Greece and Spain.
The aquaculture sector is facing a lot of challenges, such as impact of climate change and variability, urbanization and related social and economic changes. Thus the only way to meet the increasing demand for fish is to promote sustainable intensification of aquaculture, while ensuring environmental sustainability, which means "to produce more with less" by increasing the productivity and efficiency in aquaculture production with reduced consumption of resources and mitigating negative environmental and social impacts.Global Agriculture & Aquaculture Universities:
Global Agriculture & Aquaculture Research Centers & Associations:
Global Agriculture & Aquaculture Companies:
Funding Agencies:
Conclusion:
The rapid expansions in fish, poultry, and livestock farming due to the high demand and attractive profit margins will imminently result in an oversupply of products. As farm gate prices eventually fall, production costs and competitiveness of aquaculture could be improved through the greater use of fertilizers. However, the prospect of a significantly increasing yield in the country's 200,000 ha of predominantly shallow brackish water milkfish ponds through improved fertilization practices will be difficult to realize unless the ponds are deepened or life support systems are used. Competing use with agriculture is already limiting the supply of chicken manure in major aquaculture centres although the abundant supply of livestock manure offers a potentially valuable resource if technology and economic feasibility for its use can be established.