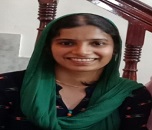 Hind Neelamkodan
DGMMES Mampad College, India
Title: Enhanced green luminescence dynamics of Cu doped ZnO nano-phosphors for white LEDs and their potential antibacterial activities against Enterococcus Faecalis and Pseudomonas Aeruginosa.
Biography:
Since 2011, Mrs. Hind Neelamkodan has been an assistant professor of physics at MES Mampad College in Kerala, India. She qualified for the Graduate Aptitude Test for Engineering in 2010 and the UGC/CSIR-NET for a lectureship in 2009. Under the guidance of Dr. Megha Research Guide, Govt. Arts and Science College Meenchanda, Calicut, Kerala, India, she is pursuing a Ph.D. in nanoscience. Her co-authored book chapter has been accepted for publication by Intech Open Access Book Publishers in the United Kingdom.
Abstract
The straightforward co-precipitation approach was used to create pure and copper-doped ZnO nanophosphors. The produced samples were evaluated for structural, optical, and microbial characteristics. By using X-ray diffraction analysis, it was determined that both the pure and copper-doped samples had hexagonal wurtzite nanocrystalline phases. The Tauc's plot was used to assess the band gap energies of all the prepared samples. All of the generated samples' room temperature photoluminescent spectra show two emission peaks: a broad defect level peak in the visible region and an excitonic peak in the UV region. The PL spectra's visible bands convey the clean as well as doped materials' yellow and green luminescence qualities, making them appropriate for optoelectronic applications. The antibacterial efficacy of the synthesized nanoparticles against the Gram-positive Enterococcus Faecalis and Pseudomonas Aeruginosa bacterial strains was assessed (Gram Negative). When compared to pure ZnO nanoparticles, the doped samples exhibit enhanced antibacterial activity. For samples with 5% copper doping, the greatest zone of inhibition against Pseudomonas Aeruginosa was noted to be 25mm. For samples that were 5 percent doped, the largest zone of inhibition against Enterococcus Faecalis was discovered to be 21mm. The findings indicate that the samples collected had more antibacterial potential against gramme negative bacteria than gramme positive bacteria. The generated chemically doped materials were therefore recommended by this investigation as excellent green nano phosphors for the production of white LEDs and effective nanoantibiotics against gram-negative bacteria.
Materials Engineering and Technology
Advanced Materials and Devices
Advanced Biomaterials and bio devices
Materials for Drug & Gene Delivery
Materials for Energy and Environmental technology
Polymer Nanotechnology
Carbon Nanostructures & Graphene
Nano Electronics
Bio Nanotechnology
Applications of Material Engineering and Nanotechnology