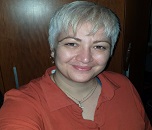 Evangelia Michail Michailidou
General Hospital Hippokratio of Thessaloniki, Greece.
Title: The importance of Life Coaching in health professions and patients
Biography:
Evangelia Michail Michailidou is a Consultant Anaesthesiologist- Intensivist, Intensive Medicine Department, Hippokration General Hospital of Thessaloniki. She is a Senior Student in the Department of ICU Administration, University of Macedonia, she completed a Masters's Degree in International Medicine-Health Crisis Management, Greece. She is a Member of the Health Response team to Crisis Situations of G.H.T. Hippokration. Life & Mentor Leadership Coach.
Abstract
There is no denying that spirituality is an important part of professional life, much more in health professions. As the world becomes more unpredictable and uncertain, more and more people are looking for those who can help them find inner peace and spiritual truth…..
And this is one of the biggest reasons why life coaching in health professions and patients would be a fast-growing niche in the coaching industry.
The truth is people are actively seeking skilled coaches who can show them the way to achieve deeper purpose, happiness, and wisdom in their work and their life.
Everyone is familiar with coaching: Our favorite world-class athletes wouldn't be where they are today without exceptional sports coaching. Many CEOs, entrepreneurs, business leaders, executives, and business professionals would not be as successful without business coaching. But there's another type of coaching that sounds more foreign to many people: life coaching in health professions and patients.
A coach helps you grow by analyzing your current situation, identifying limiting beliefs and other potential challenges and obstacles you face, and devising a custom plan of action designed to help you achieve specific outcomes in your professional life or the health status of patients.
Life Coaching
ICU Practices
Healthcare Management
Medical care Education
Critical Care and Emergency Medicine