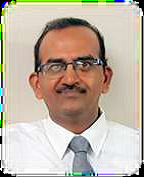 Ajay Agarwal
CSIR-Central Electronics Engineering Research Institute, India
Title: Microfluidic Devices for LOC and Diagnostic Applications
Biography:
Ajay Agarwal is Senior Principal Scientist at CSIR CEERI, Pilani INDIA; involved in development of Nanotechnologies MEMS, micro fluidics and Micro-sensors. He is also Professor at Academy of Scientific & Innovative Research, New Delhi. Earlier, he served Institute of Microelectronics, Singapore. His engagement with semiconductor industries and research institutes is for over 3 decades. He has ~280 research publications in journals or international conferences, over 60 invited/ plenary/ keynote talks and over 35 patents (granted or filled). He is bestowed with various awards including 2008 NTA, Singapore; 2009 Excellence Award, IME Singapore, 2020 CSIR Technology Award (innovation), etc.
Abstract
Innovative micro and nanoscale technologies are at the forefront of the development of numerous microfluidic sensors and lab-on-a-chips for healthcare and environmental care. Biosensor being analytical devices it provides either qualitative or quantitative results. Both have their importance. A qualitative analysis is very useful for rapid screening test applications, as today the world is looking for such devices for COVID-19 suspects. On other hand biosensors provide quantitative analysis like in care of glucose monitoring devices. The future trend of biosensors development is for point-of-care and early diagnostics requirements, mainly for glucose monitoring, infectious diseases testing, cardio-metabolic monitoring, coagulation monitoring, urinalysis, cholesterol test strips, tumour/ cancer markers analysis, pregnancy and fertility testing and many other applications.
Microfluidics plays an important role in the realization of biosensor; particularly in the sample-to-answer configurations which is common in a lab-on-a-chip realization. Fluidic channels connect the chemical reservoirs to the reaction chambers. The channels often have flow control mechanism and coatings, as per the fluids and chip requirements. Micro, nano-sensor elements also connected to microfluidic channels. Microfluidic channel itself can act as a sensing device with suitably added features.
This paper will present the design and fabrication details of a microfluidics based lab-on-a-chip device with innovative design. It has a capability to filter various particles in the fluid and to estimate their number. The challenges and their possible solutions is the realization of such a device will be elaborated. The paper will also discuss two other fluidics based devices which can be used as quick diagnostics and to control ions flow very precisely.
Micro/Nanofluidics Research and Advances
Lab-On-A-Chip Technology
Organs-on-chips
Bio-MEMS/NEMS and Chips
Micro fabrication Technologies
Electrochemistry and microfluidics
Acoustic Droplet Ejection
Bio-sensing Technologies
Digital microfluidics