Geriatrics 2018 invites all the participants across the globe to attend this meeting in Vancouver, Canada. The theme of the conference is To Explore Latest Innovations & Current Challenges in Geriatrics which encourages the young researchers and students and their research abilities by providing an opportunity to meet the experts in the field of "Geriatrics and Gerontology" from all across the world. Geriatric conference also offers an extraordinary window to get a chance to present and to get the most recent updates in a comprehensive way which deal with various regions of geriatric studies. Meetings International (Meetings Int.) provides high quality conferences, meetings, workshops and symposia in all major fields of science, technology and medicine. Since its inception, Meetings Int. has been associated with national and international associations, corporations and high level individuals, dedicated to host world class conferences and events. Meetings Int. supports broad scope research and peer review at a broad range of specialists around the world.
Why to Attend?
Join your peers around the world focused on learning about Geriatrics and related advances, which is your single best opportunity to reach the largest assemblage of participants from the geriatrics community, conduct demonstrations, distribute information, meet with current and potential professionals, make a splash with a new research works, and receive name recognition at this 2-day event. World-renowned speakers, the most recent research advances and the newest updates in geriatrics are hallmarks of this conference.
About City
We hope you will join us in Vancouver, Canada which is the third-largest metropolitan coastal seaport city in Canada, located in the Lower Mainland region of British Columbia. With its scenic views, mild climate, and friendly people, Vancouver is known around the world as both a popular tourist attraction and one of the best places to live.
The actual temperature of Vancouver, Canada in October is around 15- 20 °C. Vancouver is also one of the most ethnically and linguistically diverse cities in Canada with 52 percent of the population speaking a first language other than English.
Vancouver has hosted many international conferences and events, including the 2010 Winter Olympics and 2010 Winter Paralympics.
Vancouver is famous for modern infrastructure, very beautiful looks and feels of many of its historic neighborhood and streets. Its landmarks include Stanley Park; English Bay; Sunset; Kitsilano; Beach; Jericho; Locarno; Spanish Banks; Spanish Banks Extension; Spanish Banks West; and Wreck Beach. Vancouver is the most visited city in Canada.
Target Audience
Academic People; Scientists, Professors, young researchers, Students, Scientists, Researchers, and Faculty of Medicine and Pharmaceutical Universities, Medical Colleges, Researchers from Pharmaceutical Companies, Pharmacy and Biomedicine Associations and Societies
Business People; Business Entrepreneurs, Training Institutes, Software developing companies, Manufacturing Medical Devices Companies, and Data Management Companies.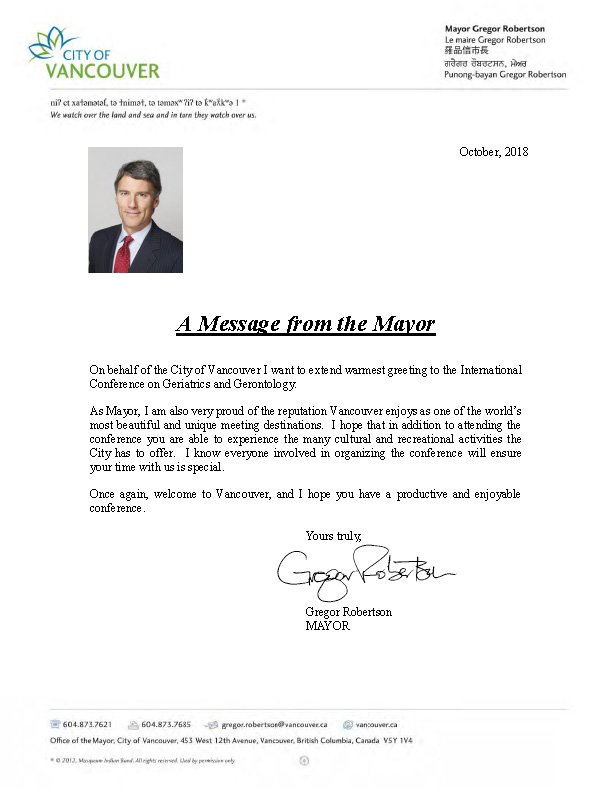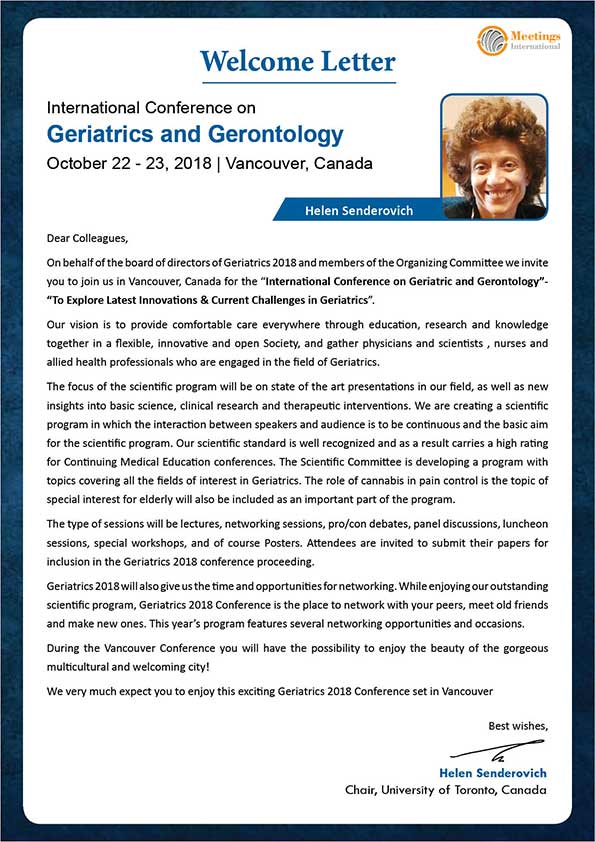 Geriatrics present medical care for the elderly, an age group that is not easy to define precisely. While aging biology refers to the inevitable, irreversible decline in organ function that occurs over time even in the absence of injury, illness, environmental risks, or poor lifestyle choices. For instance, prescribing medications for a patient with multiple health problems is more complex. A drug that might be useful in treating one health problem can make another problem worse, and be taking multiple medications can cause problematic drug interactions and side effects.
Chronic diseases have a serious impact on the health of an elderly people. There are so many chronic conditions that seem to afflict older persons of their mistaken perception example; glaucoma, lung disease, osteoporosis, macular degeneration, cardiovascular disease.
Geriatric medicine especially centers its focus on health care of elderly people. Its objective is to promote health by preventing and treating diseases and disabilities in older adults. It offers a more holistic approach to patient care than organ-based internal-medicine specialties. At this time, researchers finalized that, geriatric medicine is apart from a standard adult medicine which deals with elderly people disorders, diseases, and medication, and also specialized in the health care of old, preventing and treating them in the right way. So, this conference can help to team up with the approaches of geriatricians, nurse, nutritionist, physician assistant, geriatric psychiatrists to explore ideas which will be useful in continuing further research.
Up to 60% -70% of cancer mortality occurs in persons aged 65 years and above. The number of cancer patients over the age of 65 is projected to significantly increase over the next 20 years. Historically, clinical trial enrollment of older adults has not reflected the more general population of older patients with cancer due primarily to: one the low overall numbers of older patients enrolled and another is overly strict inclusion criteria leading to the enrollment of primarily healthy, "fit" older adults. It is very difficult to extrapolate clinical trial data to inform treatment decisions of older patients with cancer who are more vulnerable to adverse outcomes due to underlying health issues.
Some studies have suggested that treatment of endocrine diseases varies markedly in the elderly. Doses of growth hormone, thyroxine and insulin are relatively lower in aged 60-65 and above aged people. However, psychosocial factors unique to the elderly people which play an important role in the management of endocrine and metabolic disorders, such as osteoporosis, blood pressure, and diabetes etc. and should be taken into consideration in the search for optimal care of such patients.
The objective of geriatric rehabilitation is to keep up utilitarian freedom in the elderly matured individuals who are imperative part of the general public. Henceforth, elderly individuals can thrive socially and financially work. With the expansion, matured patients frequently confront numerous physical and passionate changes that can influence the level of fundamental to geriatric restoration is correspondence particularly enhancing any tactile disability.
Geriatric care administration normally has earlier preparing in nursing, social work, gerontology or other wellbeing administration territories. They are relied upon to have broad learning about the costs, quality, and accessibility of administrations in their groups. In a few nations and purviews, they may get affirmation from different expert affiliations, for example, the National Association of Professional Geriatric Care Managers in the United States.
Geriatric Nursing is a thorough hotspot for clinical data and administration exhortation identifying with the care of more established grown-ups. The diary's companion assessed articles report the most recent advancements in the administration of intense and incessant issue and give down to earth counsel on the care of more seasoned grown-ups over the long haul continuum. Geriatric Nursing delivers current issues identified with drugs, propel mandates, staff improvement and administration, lawful issues, customer and parental figure training, contamination control, and different points.
Dementia is more typical of individuals beyond 65 years old, yet it can likewise influence more youthful individuals. Early beginning of the illness can start when individuals are in their 30s, 40s, or 50s. With treatment and early analysis, you can moderate the movement of the illness and keep up mental capacity.
Alzheimer's declines after some time. Alzheimer's is a dynamic illness, where dementia indications step by step decline over various years. In its beginning times, memory misfortune is gentle, yet with late-arrange Alzheimer's, people lose the capacity to bear on a discussion and react to their condition. Alzheimer's is the 6th driving reason for death in the United States. Those with Alzheimer's experience a normal of eight years after their side effects end up perceptible to others, however, survival can go from four to 20 years, contingent upon age and other wellbeing conditions.
Geriatric psychiatry underscores the natural and mental parts of ordinary maturing, the mental impact of intense and perpetual physical ailment, and the organic and psychosocial parts of the pathology of essential mental aggravations of more seasoned age. Geriatric specialists center around avoidance, assessment, determination, and treatment of the mental and passionate issue in the elderly and change of mental look after the sound and sick elderly patients.
Rejuvenation is a medical discipline focused on the practical reversal of the aging process. Rejuvenation is distinct from life extension. Life extension strategies often study the causes of aging and try to oppose those causes in order to slow aging. Rejuvenation is the reversal of aging and thus requires a different strategy, namely repair of the damage that is associated with aging or replacement of damaged tissue with new tissue. Rejuvenation can be a means of life extension, but most life extension strategies do not involve rejuvenation.
Overview
According to a report published in March 2016 by the United States Census Bureau, the geriatric population aged 65 years is expected to account for 12% of the global populations by 2030 and further to 16.7% by 2050 as compared to 8.5% in 2015. The report further states that the population in Asia and Latin America is aging rapidly. Therefore, demand for geriatric care services is projected to be high in Asian and Latin American country during the forecast period from 2016–2024.
Anti- aging products and services help to restore and retain health, while increasing longevity. Achieving optimal health and wellbeing through the aging process requires a multifaceted approach. A new BCC Research analysis reveals that the global market for anti-aging products and services is expected to reach $331.3 billion in 2020, up from $281.6 billion in 2015, reflecting a five-year compound annual growth rate (CAGR) of 3.3%. The products segment, which accounts for nearly 83% of the overall anti-aging market, should demonstrate a five-year CAGR of 3.2% to total $273.8 billion by 2020. Services represent the faster-growing segment and account for the remaining 17% of overall sales. Anti-aging services should achieve sales of $57.6 billion in 2020, reflecting a five-year CAGR of 3.7%.
Why Geriatrics conference is Important?
Geriatric 2018 conference allows participants an opportunity to discuss the recent developments in the field of medical science. It also reviews challenges which faced by the community in the 21st century. It is the best platform where we aim to have an expert gathering from all around the world which focuses on sharing the knowledge, ideas & concurrent strategies which ensure an intense interaction amongst the experts. Expertise gets promotion through best expertise award and young researchers and Students get encouraged through talk.
Study Goals & Objectives:
Sharing of scientific knowledge and experience in all areas applied to geriatrics, gerontology and related scientific fields
Strengthening and expanding the human network of all involved in this field in Europe and globally.
Providing opportunities for early career of geriatricians and gerontologists for their professional development.
Providing a forum for scientific exchanges on recent gerontological concepts.
Identify knowledge gaps that need to be filled.
Promote the role of geriatricians in improving quality of life of elderly people.
Global Universities and Societies associated with Geriatric based Research
Global Universities and Societies associated with Geriatric based Research
USA Region:
McGill University, Canada
University of Toronto, Canada
University of Washington, United State
University of Alberta, North America
National Institute of Medical Sciences and Nutrition, Mexico
Asia Pacific Region:
Institute of Gerontology, Japan
The University of Tokyo Hospital, Japan
National Center for Geriatrics and Gerontology, Japan
Tokyo Metropolitan Geriatric Hospital, Japan
The Chinese University of Hong Kong, China
All India Institute of Medical Science, India
Europe Region:
University of Malta, Europe
European Academy of Medicine of Ageing, Europe
UAB School of Medicine, Europe
United Kingdom Region:
University of Nottingham, UK
Royal College of Physician of Edinburgh, UK
Middle East Region:
Ain Shams University, Egypt
Alexandria University, Egypt
Turkish Geriatric Society, Turkey
Lebanese University, Lebanese
University of Jordan, Jordan
Conclusion
In numerous nations, including a portion of the more crowded ones, the relative predominance of undernourishment will decrease essentially with this approach. Fewer nations than at present will have elevated amounts of undernourishment, none of them in the most crowded class. The issue of undernourishment will have a tendency to end up plainly lesser as far as both supreme numbers influenced and, considerably more, in relative terms, subsequently it will turn out to be more tractable through arrangement mediations, both national and international. Now that you have all the data you require on eating healthy, the most vital activity step you can do is to keep up this direction for living however much as could be expected. Post purposes when you require inspiration from others. Keep a journal of your sustenance decisions on your blog or diary. Converse with other individuals when you are feeling enticed to enjoy undesirable pastries.