Meetings International welcome's you all to the "21st International Conference on Nanotechnology and Nanomaterial's" which is going to be held during May 27-28, 2022 at Zurich, Switzerland. The theme of this conference is "Exploring the development in Nanotechnology". Nanotechnology 2022 conference gathers renowned scientists, physicians, young researchers, industrial delegates and talented student communities in the field of Nanotechnology. Major attractions of this event would revolve around keynote presentations, oral presentations and poster presentations.
Nanotechnology deals with developing materials, devices, or other structures which has dimension size from 1 to 100 nanometres. Nanotechnology is applicable to the fields of science, organic chemistry, molecular biology, Nano physics, and micro fabrication.
To transmit current issues and advances of your latest research.
For Thought provoking speeches by Scientists, Professors, Ph.D.'s and Young Researchers.
For Network development with Academic and Business Professionals
Accepted Abstracts will be published in our Supporting journals & also in our proceedings Book
Certificate Accredited by our Committee Member
Handbook & Certificate (Soft Copy)
Target Audience:
Nanotechnology 2022 has extended global outreach efforts to invite speakers and attendees from many nations around the world, who have an opportunity to witness the results of quality research efforts provided by attending world renowned Scientists, Doctors, Researchers, Organizations and societies of Robotics , Business delegates, CEO's and R&D Heads from Industries, Professors and Students. Directors/Co-Directors of Research based companies across Europe and US who are investing in Robotics and Robotic Surgery.
Market Outlook – 2030
The global Nanotechnology market size was valued at $1.76 billion in 2022, and is projected to reach $33.63 billion by 2030, registering a CAGR of 36.4% from 2022 to 2030. Nano science and Nanotechnology involve the study of Nanoparticles and devices, which find their application across all the science fields such as chemical, bio-medical, mechanics, and material science among others. Nanotechnology market encompasses the production and application of physical, chemical, and biological systems and devices at scales ranging from individual Atoms or Molecules to around 100 Nanometres.
Nanotechnology carries a significant impact, and serves as a revolutionary and beneficial technology across various industrial domains, including communication, medicine, transportation, agriculture, energy, materials & manufacturing, consumer products, and households. Emerging use cases and application is expected to be one of the key factors contributing towards the growth of Nanotechnology market size. The U.S. National Nanotechnology Initiative has estimated that around 20,000 researchers are working in the field of Nanotechnology. For the UK, the Institute of Occupational Medicine has estimated that approximately 2,000 people are employed in new Nanotechnology companies and universities where they may be potentially exposed to Nanoparticles.
Nanotechnology market
Furthermore, various organizations globally are investing in and its emerging applications. For instance, in 2018, Osaka University-led researchers, in a joint research project with The University of Tokyo, Kyoto University, and Waseda University, constructed integrated gene logic-chips called gene Nano chips. These self-contained Nano chips can switch genes on and off within a single chip using integrated factors on the Nano chips, preventing unintended crosstalk.
Moreover, Nano scale sensors, communications devices, and other innovations enabled by Nano electronics support an enhanced transportation infrastructure that can communicate with vehicle-based systems to help drivers maintain lane position, avoid collisions, adjust travel routes to avoid congestion, and improve drivers' interfaces to on board electronics. All these factors are expected to be major Nanotechnology market trends globally.
Segment Overview
The Nanotechnology market analysis is studied under type, application, and region. By type, the market is bifurcated into Nano sensor and Nano device. Nano sensor segment is further categorized into optical Nano sensor, biological Nano sensor, chemical Nano sensor, physical Nano sensor, and others. Nanodevice segment is further divided into Nano manipulators, Nano mechanical test instruments, Nano scale infrared spectrometers, and others. By application, the Nanotechnology market is analysed across electronics, energy, chemical manufacturing, and aerospace & defines, healthcare, and others. The geographical analysis is given for North America, Europe, Asia-Pacific, and LAMEA along with their prominent countries.
The COVID-19 pandemic is impacting the society and overall economy across the global. The impact of this outbreak is growing day-by-day as well as affecting the supply chain. It is creating uncertainty in the stock market, falling business confidence, massive slowing of supply chain, and increasing panic among customers. European countries under lockdowns have suffered a major loss of business and revenue due to shutdown of manufacturing units in the region. Operations of production and manufacturing industries have been heavily impacted by the outbreak of the COVID-19 disease; which has led to slowdown in growth of the Nanotechnology market analysis in 2020.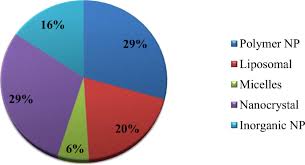 According to Nanotechnology market trends, the COVID-19 has severely impacted global manufacturing and industrial sector as production facilities have stalled, which, in turn, have led to significant demand in industries.
Emergence of COVID-19 has declined growth of the Nanotechnology market in 2020, and is estimated to witness slow growth till the end of 2021. Implementation of partial or complete lockdown across various countries globally is the prime reason for this decline in growth rate. As industries were temporarily shut, it reduced the need for maintenance from various industries.
Top Impacting Factors
Significant factors that impact growth of the global Nanotechnology industry include growth in adoption of Nanotechnology in medical diagnosis, and emerging technological advancements in Nanotech devices. However, problems regarding deployment of Nanotech devices in extreme weather conditions and high cost of the technology act as major restraining factors, hampering the market to a certain extent. Furthermore, increase in government support and funding, and emergence of self-powered Nanotech devices are expected to offer lucrative opportunities in the coming years.
Competitive Analysis
The Nanotechnology market leaders profiled in the report include Altair Nanotechnologies Inc., Applied Nanotech Holdings Inc., Thermo fisher Scientific, Imina Technologies Sa, Bruker Axs, Kleindiek Nanotechnik GmbH, eSpin Technologies Inc., Advanced Nano Products, Biosensor International, and Nanoics Imaging Ltd. These key players adopt several strategies such as, new product launch and development, acquisition, partnership and collaboration and business expansion to increase the Nanotechnology market share during the forecast period.

Issues Pertaining to the Deployment of Nanotech Devices in Extreme Weather Conditions
Nanotech devices are expected to work under extreme weather conditions such as electromagnetic noise, radiation, high vacuum, and high temperature. In the field of Nanotech devices, the devices must maintain stringent accuracy specifications for displacement, force, and response times. These new requirements present additional challenges in the compensation for or elimination of cross-sensitivities. Many devices lose their precision and reliability when exposed to harsh environments. It is important that advanced Nano sensor and other devices maintain maximum autonomy such that the devices can operate independently with low maintenance.
Increase in Government Support and Funding
Nanoscience
and
Nanotechnology
is a priority field for today's innovation leaders.
Nanotechnology
is a key element of advanced manufacturing, which is being pursued by a widening circle of industrial countries that include Australia, Canada, China, France, Germany, Japan, the Republic of Korea, and the USA.
Advanced
manufacturing is the focus of one of China's 16
Mega-engineering
programs to 2020, by which time the country plans to be
Innovation-driven
. For instance, the
BRICS
(Brazil, Russian Federation, India, China, and South Africa) are all striving to become
Nanotechnology
hubs. In addition, the U.S. federal government leads the world in
Nanotechnology
R&D funding.
Key Benefits for Stakeholders
This study comprises analytical depiction of the Nanotechnology market size along with the current trends and future estimations to depict the imminent investment pockets.
The overall Nanotechnology market analysis is determined to understand the profitable trends to gain a stronger foothold.
The report presents information related to key drivers, restraints, and opportunities with a detailed impact analysis.
The current Nanotechnology market forecast is quantitatively analysed from 2019 to 2028 to benchmark the financial competency.
Porter's five forces analysis illustrates the potency of the buyers and suppliers in the smart display.
The report includes the Nanotechnology market share of key vendors and Nanotechnology market trends
Key Market Segments
1.By Application
Electronics
Energy
Chemical manufacturing
Aerospace & Defense
Healthcare
Others
2. By Type
3.By Region
U.S.
Canada
Mexico
UK
Germany
Russia
Rest of Europe
China
India
Japan
Australia
Rest of Asia-Pacific
Latin America
Middle East
Africa
Key Market Players
Scientific Research Award
Meetings International is announcing Young Scientist Awards through Nanotechnology Conference and Nanomaterials (Nanomaterials Engineering 2022) which is scheduled at

Zurich, Switzerland

during

May 27-28, 2022

. This Nanotechnology focuses on "Exploring the development in Nanotechnplogy"
Nanomaterials 2022 and upcoming conferences will recognise participants who have significantly added value to the scientific community of Nanomaterials and provide them outstanding Young Scientist Awards. The Young Scientist Award will provide a strong professional development opportunity for young researches by meeting experts to exchange and share their experiences at our International Conferences.
Materials, Polymer Science & Engineering, Biosensors and Bioelectronic Materials Nanomaterials 2022 focuses mainly on Nanomaterials and Technology, Advanced Materials Devices, Advanced biomaterials and bio devices, Graphene and 2D Materials, Emerging Smart. Nanomaterials operating committee is providing a platform for all the budding young researchers, young investigators, post-graduate/Master students, PhD. students and trainees to showcase their research and innovation.
Eligibility:
Young Scientists, faculty members, post-doctoral fellows, PhD scholars and bright Final Year MSc and M.Phil. candidates Persons from Scientific Industry can also participate.
Benefits: The Young Scientist Feature is a platform to promote young researchers in their respective area by giving them a chance to present their achievements and future perspectives.
Acknowledgement as YRF Awardee

Promotion on the conference website, Young Researcher Awards and certificates

Link on the conference website

Recognition on Meetings Int. Award Page

Chances to coordinate with partners around the world

Research work can be published in the relevant journal without any publication fee
Criteria:
All presented abstracts will automatically be considered for the Award.

All the presentation will be evaluated in the conference venue

All the awards will be selected by the judges of the award category

The winners of the Young Scientist Award will receive award certificate.

The awards will be assessed as far as plan and format, intelligence, argumentation and approach, familiarity with past work, engaging quality, message and primary concerns, parity of content visuals, and by and large impression.
Guidelines:
All submissions must be in English.

The topic must fit into scientific sessions of the conference

Each individual participant is allowed to submit maximum 2 papers

Abstract must be submitted online as per the given abstract template

Abstracts must be written in Times New Roman and font size will be 12

Abstract must contain title, name, affiliation, country, speakers biography, recent photograph, image and reference
Conditions of Acceptance:
To receive the award, the awardee must submit the presentation for which the award is given, for publication at the website, along with author permission. Failure to submit the PPT, and permission within the designated timeframe will result in forfeiture of award.
Award Announcements:
Official announcement of the recipients will occur after the completion of Nanotechnology & Nanomaterials Conference.
When you want to be noticed with the content that counts, advertise with a Meetings International and reach minds that matter. Meetings International is a global leader in producing high quality conferences and workshops in all major fields of science, technology and medicine.
Meetings International Conference websites are being visited by doctors, engineers, young and budding researchers, entrepreneurs, eminent scientists, academicians and Nobel laureates from various sectors of medical and non-medical sciences. We can target impressions of your advertisements by conferences subject or region and report results in comprehensive detail.
Nanotechnology and Nanomaterial's encourages various companies and small-scale business to digitally advertise their products and services on its web platform which will definitely help in informing and attracting new customers quickly and efficiently. The size and diversity of our advertising options provide clients with the very best customized marketing opportunities. The advertising platform we provide you is the best chance of showcasing your products/services, and branding your company.
If you are looking for a global exposure for your products and services, this is the right place for you. Display advertising improves the visibility of your products and services among specialists in your field. Bring your product to life and create instant brand awareness with a banner ad placement. Make your banner interactive to direct people to where you want them to go. We offer banner ads on our website which will be beneficial for healthcare professionals across the globe.
Our subscribers and conference attendees can be your upcoming enthusiastic customers. If you sell clinical equipment, products or provide relevant services, here is your opportunity to advertise in the website that can connect you to leading experts and science specialists worldwide.
Advertisement banner must be provided by the advertising company and must be in the jpg or jpeg format. The banner must be of high resolution and must not have copyright infringement.
In case you have any queries regarding advertising opportunities, please contact our representative:

[email protected]