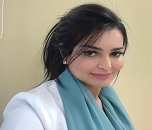 Dr. Arij Al-Thubaiti
MBBS, SBFM &ABFM Family medicine consultant
Title: KNOWLEDGE AND PRACTICE OF PHYSICALACTIVITY AMONG PREGNANT FOLLOWING IN PRIMARY HEALTH CARE CENTERS IN THE EASTERN PROVINCE
Biography:
Dr.Arij A Al-Thebaiti
Family medicine consultant
Adolescent Health speciality
Member of Saudi Board of Families Medicine Exam committee
Former Head of Family Medicine Department
Abstract
Pregnancy is a great time to evolve healthy lifestyle habits including regular exercise. Physical exercise programs for pregnant women are praised and are steadily rising in popularity. The benefits included preservation of prenatal aerobic and musculoskeletal fitness levels, prevention of excessive maternal weight gain, facilitation of labor, help for gestational glucose control and improved psychological adjustment to changes of pregnancy (1). Numerous Health benefits of physical activity during pregnancy were documented such as reduced risk of excessive gestational weight gain and conditions such as gestational diabetes, preeclampsia, preterm birth, varicose veins, and deep vein thrombosis. Evidence showed that physical activity during pregnancy is associated with a reduced length of labor and delivery complications. Psychological benefits of physical activity during pregnancy include reduced fatigue, stress, anxiety, and depression, as well as improved well-being. Physiologic responses to exercise, such as changes in heart rate, cardiac output, ventilation, and energy expenditure, are all greater during the antenatal phase than before conception and may become more pronounced as pregnancy progresses. (2). The World Health Organization's guideline on physical activity recommends that adults age 18 to 64 years should practice at least 150 minutes of moderate intensity aerobic activity throughout the week, or at least 75 minutes of vigorous-intensity aerobic activity, or an equivalent combination of the two (3). Most pregnant ladies don't engage in any form of exercise and tend to decrease their level of physical activity, including household and occupational activities. Pregnant women have cited discomfort during practice, fear of harm to the fetus, and a history of abortion or infertility treatments as reasons for reducing physical activity. Among sociodemographic factors, lower educational level and income, a greater number of children at home are most frequently associated with the reduced physical activity (4).
In December 2015, the American College of Obstetrics and Gynecology (ACOG) published updated physical activity (PA) guidelines for pregnant women, recommending women with uncomplicated pregnancies engage in ≥20–30 minutes/day of exercise on most days/week (5). The physical activity level in Saudi Arabia is low as a study conducted on 2007 showed that 98.1% of Saudi females are sedentary (6). JUSTIFICATION In Saudi Arabia the practice of exercise is of low prevalence, advocacy of physical exercise among women in general and pregnant ladies indeed are highly required at national and local levels. After reviewing literature, we noticed that there were no studies on physical activity among pregnant ladies in Saudi Arabia despite the importance of exercise on the health of both the mother and the baby. We decided to conduct our research in order to estimate the prevalence of physical activity among pregnant and relate to the factors that could be responsible for low prevalence and make suggestions in order to promote such as healthy and cost effective intervention. Research Question: How can the knowledge of pregnant following in PHCC affect their practice of physical activity during pregnancy? GENERALOBJECTIVE: To assess the knowledge and practice of pregnant women regarding physical activity during their pregnancies in the eastern province (AlKhobar, Dammam & Al-Qatif) Saudi Arabia. SPECIFIC OBJECTIVES:
1. To assess the knowledge and practice regarding physical activity in pregnancy.
2. To assess the prevalence of physical activity in pregnant women attending PHCC.
3. To estimate the relevant factors related to physical activity during pregnancy.
Midwifery: Innovation, Practice and Research
Midwife Services in Breast Feeding
Women's Reproductive Health: Ethical, Legal and Social Issues
Gynaecology and Obstetrics
Maternity Nutrition and Diet Supplements
Midwifery Potent/Traditional Medicine
Prenatal Care and Perinatal Depression
Maternal Physiotherapy and Yoga
Maternal and Child Health: Clinical and Medical Case Reports
Pediatric Nursing
Hypno birth and Water Bith
Sexually Transmitted Diseases
Contraception and Pre-Conception Counselling
Family Nursing