The "4th International Conference on Diet & Nutrition" is scheduled on March 23-24, 2020 in Toronto, Canada. The primary topic of the Diet & Nutrition 2020 is "Vision making a sound life by Healthful treatment". This conference is a global platform for Professors, Deans, Academic Researchers, Researchers, Industrialists, Nutritionists Dietitians, Doctors, Young Scientists, Students, Delegates, health professionals in nutritionist and other healthcare professionals to to participate at Diet & Nutrition Conference.
Diet & Nutrition 2020 is comprised to offer comprehensive sessions that address current issues in the field of Diet and Nutrition, i.e. human nutrition, pediatric nutrition, maternal nutrition, sports nutrition and fitness, plant nutrition, malnutrition, diet and cancer, obesity and underweight, eating disorder, dietary and nutrients supplements, artificial additives and nutritional immunology & food allergies.
Toronto, the capital of the province of Ontario, is a major Canadian city along Lake Ontario's north-western shore. It's a dynamic metropolis with a core of soaring skyscrapers, all dwarfed by the iconic, free-standing CN Tower. Toronto also has many green spaces, from the orderly oval of Queen's Park to 400-acre High Park and its trails, sports facilities and zoo. Toronto is located on the shore plain beside its harbour. There is a fairly abrupt rise 4 km inland which marks the shoreline of Lake Iroquois, a lake formed by glaciers 12,500 years ago that had a much higher water level than Lake Ontario.
Nutrition Conferences | Nutrition Meetings | Upcoming Nutrition Conferences Diet & Nutrition Conferences | Diet Workshops | Nutrition Symposiums | Diet & Nutrition 2020 Conferences | Canada Conferences | America Events | 2020 Conferences
Session 1: Human Nutrition
Human nutrition can be characterized as the course of action of key food supplements vital to reinforce human life and health. Poor nutrition is an interminable issue every now and again associated with poverty, poor nutrition comprehension and hereditary factors, and lacking sanitation and security of food. Lack of healthy food and its outcomes are reasons for death and disability in the world. Propelling good diet empowers children to grow, progresses human development and eradicates poverty.
Session 2: Pediatric Nutrition
Nutrition is basic for everyone, it is especially imperative for youngsters since it is specifically connected to all parts of their development and advancement; factors which will directly affect their health as adults. Regardless of a baby or a secondary school understudy, nutrition is critical to his or her physical and mental improvement.
About 1 in 3 youngsters in America are overweight or corpulent. Throughout the world, parents are becoming more aware of the dietary advantages of healthy food and supplement. Therefore, all around the world Pediatric Nutrition market is developing at a critical pace with organizations scrambling to get a huge offer of the market. The Asian market is contributing essentially to the development of Pediatric Nutrition market as more than 33% of the worldwide market is accounted by this district.
Session 3: Maternal Nutrition
The expression "Maternal Nutrition" centers consideration around mothers, on their dietary status as it identifies with the bearing and nurturing of children. In any case, the poor nutritional status of numerous women on the planet today bargains their ability to meet the enthusiastic requests of their different parts as moms and beneficial laborers. Absence of adequate nutrition, healthy food or the insufficiency of a particular supplement, for example, iron, is obviously ensnared in contemporary maternal lack of healthy food. Frequently, in any case, a substantial work-stack, made yet more troublesome by constrained access to essential assets (e.g., water and fuel), drives a women with barely sufficient nutrition intake into a condition of maternal malnutrition.
Session 4: Sports Nutrition and Fitness
Nutrition and fitness are closely interrelated components to body composition, muscular capability and respiratory and cardiovascular capacity. Carbohydrates, fats and protein are the dietary sources that give the fuel for energy change within the muscle. Fitness is the state or conditions of being healthy, or great wellbeing and condition as a result of work out and balance nourishment. Physical work out and balance diet gives better performance; that includes Cardiovascular health, Respiratory function, Hormones, Immune response, Muscles and bones, Metabolism.
Session 5: Plant Nutrition
Plant Nutrition is basic food resources for individuals. Built chemicals and oil subordinates can supplant many plant-decided arrangements, fibers, and hues; metal, piece, and concrete can supplant wood; yet there is not a suitable trade for plant-surmised sustenance's. Every human sustenance is plants or animals that eat plants. Saprophytic life forms contribute by and large little to the typical caloric affirmation of most by far. The essential individuals collected wild species. Exhibit day social orders rely upon high-yielding cultivars, giving them more vital control over food supplies. While sustenance lack and starvation remain threats in a couple of segments of the world.
Session 6: Malnutrition
Malnutrition is a condition that results from eating a diet in which one or more nutrients are either not enough or are too much such that the diet causes health problems. It may involve calories, protein, carbohydrates, vitamins or minerals.
Session 7: Diet and Cancer
The connection between cancer and diet is similarly as puzzling as the ailment itself. Much research has indicated certain food and nutrients that may help avoid or on the other hand, add to specific sorts of malignancy. While there are many variables you can't change that promote the risk of cancer, for example, hereditary qualities and environment, there are others you can control. Truth be told, estimates recommend that under 30% of a man's lifetime danger of getting disease is because of uncontrolled elements. The rest you have the ability to change, including your diet. Science has discovered that specific dietary propensities have a tendency to have a more prominent impact.
Session 8: Obesity and underweight
The global obesity treatment advertise is required to achieve USD 15.6 billion by 2024, as indicated by another report by Grand View Research, Inc. Upward pattern in stationary ways of life, physical inertia, and undesirable food propensities are the imperative variables in charge of the high predominance of stoutness. As indicated by the Institute of Health Metrics and Evaluation, around 30.0% of the worldwide populace is either fat or overweight.
Session 9: Eating Disorder
Eating disorders may incorporate lacking or excess food consumption which can harm a person's health. It's nothing unexpected that eating disorders are on the ascent all through the world. With the ascent of worldwide Westernization, innovation propels, and social moves, an ascent of the possibility of a perfect body shape and size has influenced most all parts of the world. As indicated by the National Eating Disorder Association, up to 70 million individuals (both male and female) experience the ill effects of eating disorders.
Session 10: Dietary and Nutrients Supplements
Nutritional supplements are any dietary supplement that is intended to provide nutrients that may otherwise not be consumed in sufficient quantities; for example, vitamins, minerals, proteins, amino acids or other nutritional substances. Products are generally ingested in capsule, tablet or liquid form.
Session 11: Artificial Additives
In 1970, a research conducted showed the association of the artificial sweetener saccharin with bladder cancer in laboratory rats. Another research showed that cells became less well defined and flatter at higher artificial sweetener concentration. Bloating is another possible side effect of artificial additives as the body is unable to completely absorb them. In 2014, an Israeli research showed experimental evidence that Artificial Additives may increase, rather than put a close to, metabolic disorders such as type 2 diabetes At the end of the day, utilization of artificial additives can make you evade sound, filling, and exceptionally healthy food while expending all the more falsely flavoured food with less nutritional value.
Session 12: Nutritional Immunology & Food Allergies
Nutritional Immunology is the study of diet and nutritional factors that influences immune responses regulating health and disease outcomes. Essential developing of Nutritional Immunology is due to detrimental effect of malnutrition on the immune system. The main ideology is to identify novel plant-derived compounds with anti-inflammatory and anti-diabetic actions. The novel molecular target characterizes the actions of dietary compounds and botanicals in inflammation and immunity. Food allergy is an unpleasant or dangerous immune system reaction caused after certain food is taken.
Diet and Nutrition 2020 conference invites speakers, delegates, moderators and exhibitors from everywhere throughout the world to Toronto, Canada. We are delighted to welcome you to our 4th International Conference on Diet and Nutrition which will be held during March 23-24, 2020 at Toronto, Canada.
The organizing committee is preparing for an energizing and enlightening conference which includes plenary lectures, symposia, workshops on an assortment of themes, publication introductions and different projects for members from everywhere throughout the world. We welcome you to us at the 4th International Conference on Diet and Nutrition where you will make certain to have an important involvement with researchers from around the world. All members of the organizing committee look forward to meeting you in Toronto, Canada
Eating a balanced diet is crucial for great wellbeing and prosperity. Food provides energy, protein, fundamental fats, vitamins and minerals to our body for develop and to work properly. We require a wide variety of distinctive foods to provide the proper amounts of nutrients for great wellbeing. Satisfaction of a healthy diet can moreover be one of the incredible cultural pleasures of life. An unhealthy diet increments the chance of numerous diet-related illnesses. Diet and Nutrition 2019 is aimed to provide a distinguished opportunity to the professionals in the field of nutrition to discuss latest research and challenges in the field.
Global Dietary Supplements Market:
The global dietary supplements market is expected to reach USD 278.02 billion by 2024, at a CAGR of 9.6% from 2016 to 2024, according to a report by Grand View Research, Inc. Rising obesity rates in developed economies including the U.S. and Germany as a result of fluctuating dieting patterns along hectic work style among adults is expected to prompt the spending on nutritional supplements. Over the past few years, the high adoption rate of fast foods along sedentary lifestyle in emerging economies including China and India has led to the increase in the prevalence of cardiovascular disorders, diabetes, and obesity. As a result, the individuals among high socio-economic and upper-middle-class income groups are expected to perceive the Nutraceuticals including dietary supplements as the alternatives to prescribed drugs.
The nutritional analysis market is estimated to be valued at USD 4.04 Billion in 2017, and is projected to reach USD 5.99 Billion by 2022, at a CAGR of 8.2% from 2017 to 2022. Nutrition analysis refers to the process of determining the nutritional content of food. Nutritional analysis involves two ways to calculate the nutritional content of a food sample; chemically, and by calculation. Nutritional analysis has been increasing in the global market due to the rise in consumer awareness, implementation of food safety and nutritional labelling regulations, globalization of food trade, and advancement in technology.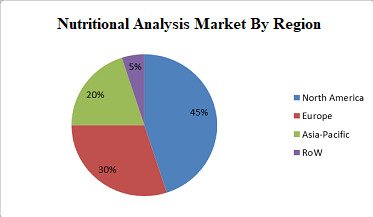 Avi food systems, inc.
Auntie Anne's Inc
Baldwin Richardson Foods Co
Krasdale Foods Inc.
Carnival Cruise Line
Central Market
Champagne French Bakery Café
Classic Delight Inc.
Cuisine Innovations
Ellenbee Leggett Co
G.A. Food Service, Inc
Gedney Foods Company
Golden County Foods, Inc.
Golden State Foods
Gordon Food Service
Groeb Farms, Inc
H. Schrier & Co., Inc
Hanover Foods
Krasdale Foods Inc.
Diet and Nutrition Related Societies:
American Society for Parenteral and Enteral Nutrition
American Society for Nutrition
Dieticians of Canada
Academy of Nutrition and Dietetics
Federation of European Nutrition Societies
International Union of Nutritional Sciences
British Dietetic Association
British Nutrition Foundation
Society for Nutrition Education and Behaviour
Global Alliance for Improved Nutrition
WIC
Center for Nutrition Policy and Promotion
The German Nutrition Society
List of the Diet and Nutrition Related Universities Worldwide:
Pepperdine University, USA
Point Loma Nazarene University, USA
Portland State University, USA
Prairie View A&M University, USA
Purdue University, USA
Rutgers University, USA
University in New Brunswick, USA
Sacramento City College, USA
Saint Francis Xavier University, USA
Saint Louis University, USA
Samford University, USA
San Diego State University, USA
San Francisco State University, USA
The University of Newcastle, Australia
The University of Queensland, Australia
University of Canberra, Australia
University of Copenhagen, Denmark
Abertay University, UK
Anglia Ruskin University, UK
Birmingham City University, UK
Bournemouth University, UK
Cardiff Metropolitan University, UK
Lund University, Sweden
University of Gothenburg, Sweden
Uppsala University, Sweden
University of Oslo, Norway
University College Cork, Ireland
University of Bern, Switzerland
Clinical Nutritionists, registered dieticians, health-care professionals, researchers and students working in the field of Nutrition The other section of audiences can be Presidents, CEO's, Delegates and industrial executives from Clinical Nutrition, Nutrition and healthcare Sectors.
https://www.marketsandmarkets.com/PressReleases/nutritional-analysis.asp
https://www.grandviewresearch.com/press-release/global-dietary-supplements-market